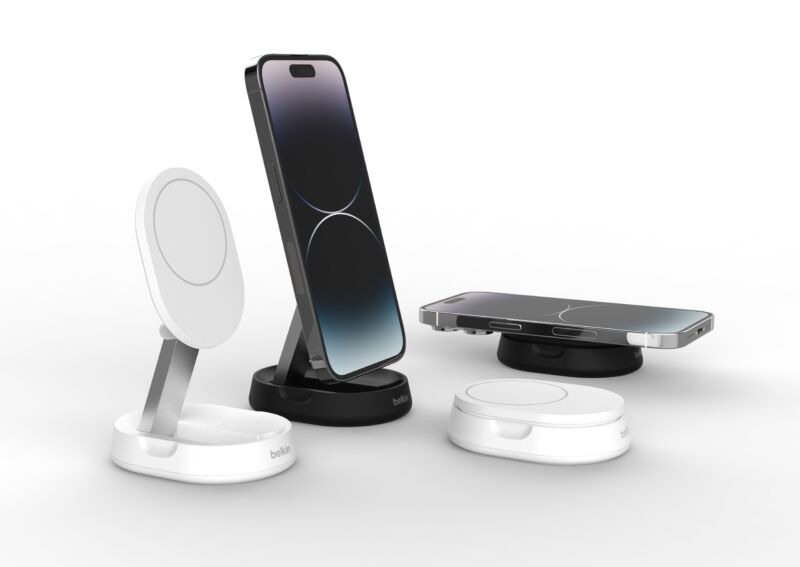 The first wireless charging devices that support the Wireless Power Consortium's (WPC) Qi2 wireless charging standard were detailed today. The chargers and subsequent Qi2 products will feature Apple MagSafe-like technology and promise a secure, more efficient wireless charge with the help of magnets. We don't know which smartphones will support Qi2, but there's hope that with the right compatibility, it will be easier to charge an Android phone with a secure magnetic connection. The new charging standard will also expand the number of chargers that can power Android and iOS devices wirelessly.
Currently, wireless iPhone charging is limited to 7.5 W unless you have a MagSafe charger, which supports 15 W. The limitation has given shoppers a reason to buy a MagSafe charger over various non-Apple chargers, including those following the Qi standard. It took five years after Android phones started adopting Qi for Apple (with the iPhone 8 series) to get on board. In January 2023, months ahead of Apple's expected iPhone 15 launch,  WPC announced that Apple "provided the basis for the new Qi2 standard building on its MagSafe technology."
Along with other WPC members, Apple helped create the standard's Magnet Power Profile. When finalized, the Qi2 standard will have mandates for magnet strength and dimensions to ensure foolproof alignment between transmitters and receivers for a consistent charge and less heat-inducing energy loss. The WPC sees the design as enabling wireless charging of new product categories, including tablets and smartwatches (it's targeting the standard at phones and wireless earbuds to start).
But in a January interview, a WPC spokesperson told The Verge that the pattern of magnets for MagSafe and Qi2 aren't identical, making the WPC unsure if the iPhone 12, 13, or 14 will be compatible. But the WPC rep also said: "Certainly going forward we expect they'll be fully on board with Qi2 and we know that they are." That bodes well for iPhone 15 Qi2 support, and maybe we'll know for sure after Apple's September 12 event. Anker, at least, claims its upcoming Qi2 charging devices are "compatible with all Apple MagSafe iPhone products."
Anker's MagGo Wireless Charger is one of eight products it announced today with Qi2 support.

Anker

Belkin's BoostCharge Pro 3-in-1 Wireless Charging Pad With Qi2.
WPC hasn't finalized the Qi2 specification yet, so it's unclear what other differences between Qi2 and MagSafe there might be.
Looking ahead, we can expect more products with Qi2 to be announced. Eventually, we might even see fewer new products claiming to be "MagSafe-compatible" while offering less power to an iPhone than a real MagSafe charger and lousy connections, and less unofficial MagSafe Android charging. Qi2 requires authentication, so charging might not work with non-compliant chargers.
We won't get our hopes up, but in the long-term, Qi2 could also result in a larger magnetized smartphone accessory craze than what MagSafe's ever created, which at its height has ranged from battery packs to tripods and even RGB smartphone fans.
The WPC also promises to update the Qi2 standard to support charging beyond 15 W, with a goal of mid-2024, a WPC rep told Android Authority in January.
But with wires still offering iPhones and other devices the most efficient charge and USB-C expected to debut on the iPhone with the iPhone 15, we're not expecting magnets to eliminate charging cables anytime soon.
Anker and Belkin announced their Qi2 products as part of their presence at the IFA 2023 trade show. Anker revealed seven products in its MagGo wireless charging series without official pricing and an expected late 2023 release, The Verge reports. Belkin said it will show its Qi2 chargers, the BoostCharge Pro 3-in-1 Wireless Charging Pad with Qi2 ($129.99, per The Verge)  and BoostCharge Convertible Qi2 Wireless Pad to Stand ($60, per The Verge), at IFA. The former will be available "later this year," and the latter will be available in Q1, Belkin's announcement said.