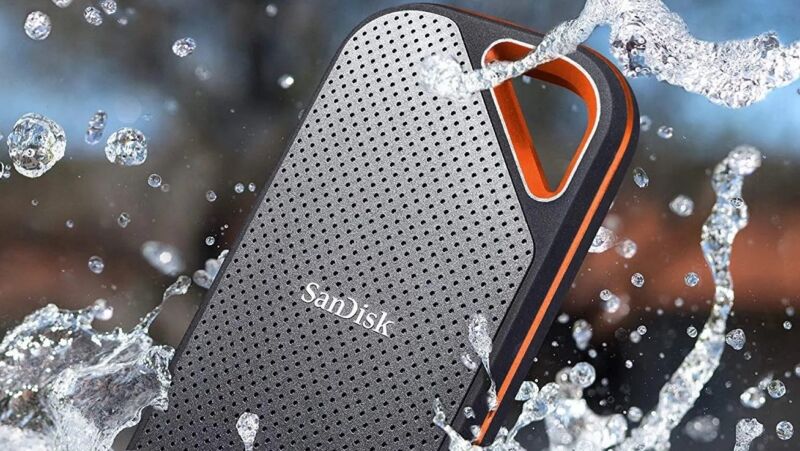 Amid ongoing pressure to address claims that its SanDisk Extreme SSDs are still erasing data and becoming unmountable despite a firmware fix, Western Digital is facing a lawsuit over its storage drives. A lawsuit filed on Wednesday accuses the company of knowingly selling defective SSDs.
Western Digital brand SanDisk's series of Extreme V2 and Extreme Pro V2 portable SSDs are often recommended by tech review sites. If you've considered a portable drive, it's likely you've come across the popular series in your search.
However, numerous owners of the drives, including Ars Technica's own Lee Hutchinson, encountered a problem where the drives seemingly erased data and became unreadable. Lee saw two drives fill approximately halfway before showing read and write errors. Disconnecting and reconnecting showed the drive was unformatted and empty. Wiping and formatting didn't resolve things.
Complaints about the drives littered SanDisk's forums and Reddit (examples here, here, here, and here) for at least four months before Western Digital released a firmware fix in late May. The page for the update claims products currently shipping are not affected. But the company never noted customers' lost data claims.
It did, however, name the affected drives:
SanDisk Extreme Portable 4TB (SDSSDE61-4T00)
SanDisk Extreme Pro Portable 4TB (SDSSDE81-4T00)
SanDisk Extreme Pro Portable 2TB (SDSSDE81-2T00)
SanDisk Extreme Pro Portable 1TB (SDSSDE81-1T00)
Western Digital My Passport 4TB (WDBAGF0040BGY)
Subsequent reports from The Verge, which received a replacement SSD, and some Reddit users, though, claimed the drives were still broken. Western Digital didn't answer requests for comment about newfound grievances.
Now, it'll have to answer to the legal system.
Lawsuit filed against Western Digital
Nathan Krum filed a lawsuit (PDF) against Western Digital in a federal court in San Jose, California, on Wednesday, as spotted by The Register. The complaint is seeking class-action certification on behalf of people who bought a 500GB, 1TB, 2TB, or 4TB SanDisk Extreme Pro, SanDisk Extreme, or Western Digital My Passport SSD that was "designed, manufactured, distributed, promoted and/or sold" since January 2023. Interestingly, the complaint includes SanDisk and My Passport devices that the companies didn't list as affected.
According to the complaint, Krum bought a 2TB Extreme Pro for $180 on Amazon. But "the drive has failed and/or Plaintiff can no longer trust using the drive and thus it is worthless to him. However, he cannot return it for a full refund, and has expended money to either retrieve lost data and/or to obtain a replacement."
The complaint says Western Digital "engaged in a scheme to mislead consumers" about Extreme and My Passport SSDs and that both series of drives are still defective after the firmware update, "according to reports from individuals who installed this fix."
The lawsuit seeks compensation, including damages and legal fees.
Storage devices incapable of safely storing data?
The complaint reads:
A series of SanDisk Extreme Pro SSD portable (SSDs) thus do not conform with their core functionality, as well as Western Digital's basic promise that the (SSDs) they sell will do what they are supposed to do– store data safely for later access.
Further, the complaint alleges that Western Digital knows of these defects and notes that business can be impacted. Western Digital's current product page advertises Extreme drives as fit for photographers, and it's pushed My Passport as suitable for creators and businesses. Many complaints Ars has seen online come from creatives like video editors.
The complaint says Western Digital has put customers in "an impossible situation."
Either they use these drives knowing the drives may lose data without warning that cannot be re-created, and all Defendants will do if that happens is provide them a replacement device, or they are forced to buy another drive that Defendants will refuse to compensate them for because their original drive has not failed, even though can (sic) no longer trust it to do what is was purchased for in the first place.
As if making storage products that can't be relied on to store wouldn't be bad enough, the complaint also notes Western Digital "may be selling these defective (SSDs) at steep discounts to get them out of inventory."
Interestingly, Krum's complaint claims the latest problems with the drives come from a "bug" in firmware update "R332G190" released in July. As noted by The Register, the update doesn't seem available online but could be locked behind a portal requiring a serial number (we don't have any Extreme or My Passport SSDs to check. Lee returned his SanDisk drives when they stopped working).
Fed-up customers
This latest lawsuit is still in the early stages, so its class-action status is pending. There are also other law firms investigating customer complaints against Western Digital.
With customer dissatisfaction so high, it seemed likely that users would seek litigation.
As Ars mentioned last week, Western Digital's silence on lost data claims is burning away any customer trust that remained after the SSDs allegedly started losing data earlier this year. And that's after already destroying trust with several other controversies, like:
The SMR and drive size scandals resulted in class-action lawsuits, with the former reportedly ending in a $2.7 million settlement and the latter with Western Digital compensating affected parties with free backup and recovery software worth $30.
Lawyers for Krum didn't immediately respond to Ars' request for comment. A Western Digital spokesperson said, "We do not comment on pending litigation."